2 Will Do ...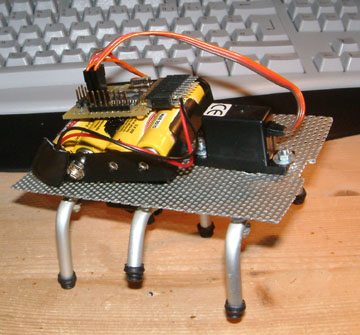 ServoMagazine, an American Robotics magazine has published a series of articles about a "Mini Servo Walker" with six legs powered by three servos and various capabilities. I remembered my own Hexapod project and did a remake of it, again with two servos only instead of three (hence the name "2WillDo").
Now, that's my Mini Servo Walker. C'mon: Admit it: 2 Will Do ...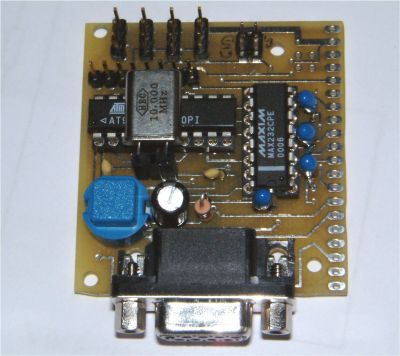 The 'bot is driven by one of my control circuits. I'm sticking to Atmel 8bit chips for now ...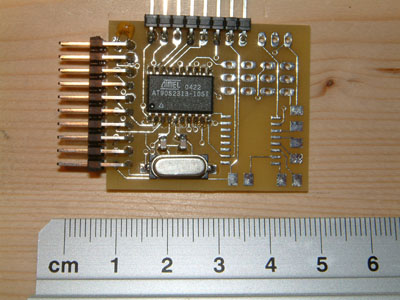 They are either programmed in BASCOM Basic or (increasingly) in 'C'.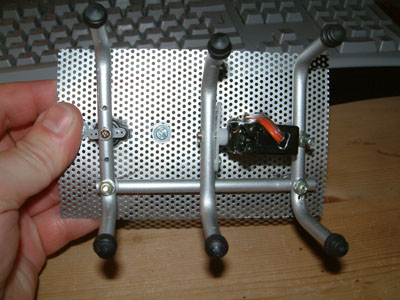 The chassis and the legs are made of aluminium.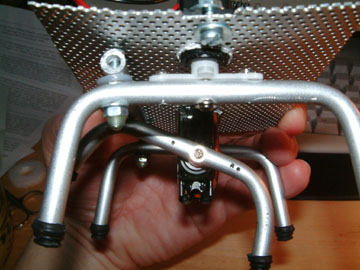 Steering is a problem again. And I haven't quite solved it:
My Hexapod has it's four front- and hindlegs coupled (left side forward, right side back and vice versa ). All four are driven by just one servo motor. The pair of legs that currently does the propulsion is put to ground while the other pair is lifted up by the second servo.
So, steering is done by varying the range of the "propulsion servo" but also by the "lifting servo" and to make things worse since we are having so few DOF a lot depends on the type of ground and the friction it offers. Not to mention the problem with the rather small heigth my model can climb.